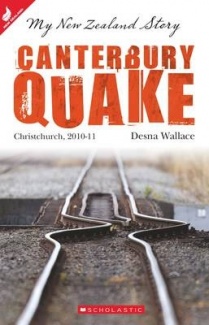 The Title of my book is:
Canterbury Quake
The Author of my book is: Desna Wallace
The Genre of my book is: Realistic-Fiction
In
Canterbury Quake
the book explains what happen in Christchurch when the devastating earthquakes hit. Maddy just wants it to either stop forever or just go back the way it was before the earthquakes. Maddy's best friend Laura has moved to Timaru because of the earthquakes but said that her Dad will come up and work and at first he will stay in a motel but he will try and find a house to rent and then they will probably come back up to live again.